The life science sector is increasingly becoming a global marketplace. The collaborative fight against COVID-19 has cemented many existing relationships across nations whilst forging new ones.
With the UK redoubling its R&D efforts in years to come and future trade agreements aiming to reduce barriers following Brexit, the opportunities to trade and export overseas are significant.
Considerations when expanding into new territories
Most insurers in the life science industry have a global reach, and therefore the scope to cover overseas territories. There are a number of considerations for businesses to take into account to ensure that their insurance covers align with the risks and requirements of having an overseas presence.
Jurisdiction of liability covers
Key covers for life science businesses includes Public & Products Liability and Professional Indemnity, primarily covering third party costs incurred through negligence of a supplied product and the financial loss incurred due to an error or omission.
These covers will be subject to a limit on its jurisdiction, i.e., the overseas territories in which a claim can be brought. It is therefore vital that this aligns with new territories that a business begins working in.
Most insurers commonly cover all territories, aside from North America which requires adding back in. UK insurers view the North American courts cautiously, owing to its litigious nature and punitive approach which is considerably different to that of UK and the EU, and can inflate defence costs and eventual settlements.
It is worth noting that most insurers can cover North America, but their approach to doing so will be conservative due to those inflated costs. This will include insurers often limiting claims emanating from North America to "in the aggregate", whilst including defence costs within the overall limit of indemnity.
Contractual requirements
When negotiating an overseas contract, it is important to be mindful of stipulations relating to insurance covers. In our role as a broker, we would always welcome sight of such stipulations and offer comments regarding cover. It is often requested that a business has certain limits of indemnity in place, for example.
Again, a special mention for North American contracts. It is common for there to be requests of an additional insured status and/or a waiver of subrogation. Both requests should be treated with caution, and discussed with broker and insurer prior to agreement.
Noting a customer as an additional insured assigns them with identical rights to the policy, whilst a waiver of subrogation removes the right of an insurer to recover costs from the customer in the event that they were negligent. The key drawback of agreeing to such clauses is that any claim that arises due to the customer will sit on the claims record of the business and potentially impact future premiums negatively.
Whilst such clauses are eminently doable with insurers, it does increase their exposure to claims which enforces a cautious and often reluctant approach.
Local insurance covers
If a business is trading under a newly incorporated subsidiary overseas, it should consider its legal insurance requirements according to the specific laws of the country.
Similarly, if a UK business is employing overseas employees, it should be aware of any legal requirements in the specific country regarding employment-related covers or contributions.
Property
Finally, if a business intends on having property (e.g., R&D samples, Stock and Computer Equipment) overseas, its UK insurance arrangements should extend to cover such property to the required territory. Any cargo shipments can also be insured via a specialist marine cargo policy.
About the author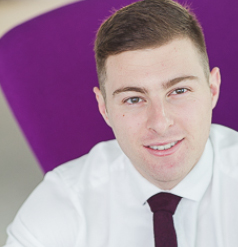 Ryan Legge is a Chartered Insurance Broker and has vast experience working with all manner of life science businesses. If you have any additional queries about your insurance arrangements please get in touch with Ryan via phone or email:
Ryan Legge FCII | Chartered insurance broker
[email protected]
07889 561 418